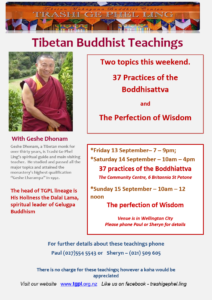 GESHE DHONAM'S VISIT TO WELLINGTON – 13/14/15 SEPTEMBER
The Friday and Saturday teachings will be held at the Petone Community Centre 6 Britannia Street.
The Sunday teachings will be in Wellington.  It will take place at 1 Herd Street   Oriental Bay, near Waitangi Park.   The teaching will be at apartment 602.  Someone will be there to greet you, otherwise phone Sheryn – 021 509 605 or Paul on 0275545543
Friday 13th – 7 – 9pm and Saturday 14th – 10am – 4pm will focus on:
The 37 Practices of the Bodhisattva written by Togmay Zangpo. They are 37 succinct verses that summarize how we can transform our thoughts and actions into the path. Geshela will work with some of the more important verses in the text.
Sunday 15th will focus on:
Emptiness; looking at the verse  from The Diamond Sutra (Like a Star, a Mirage, a Lamp) which gives a brief,  pithy instruction on the Perfection of  Wisdom
If you need any further information, or a ride, give us a yell.
Sheryn: 021 509 605 – Paul: ​027 554 5543
We do not charge for any of the teachings, however donations are appreciated to cover the costs of Geshe-la and Celia's travel and room hire.
Sheryn: 021)509605
Paul:      027)5545543
Email trashigephel.wgtn@gmail.com
Visit our website   www.tgpl.org.nz