The head of our lineage is His Holiness the Dalai Lama, spritual leader of Gelugpa Buddhism.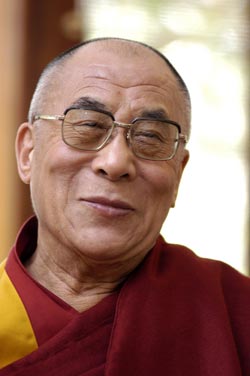 His Holiness the 14th Dalai Lama, Tenzin Gyatso, is both the head of state and the spiritual leader of Tibet. He was born on 6 July 1935, to a farming family, in a small hamlet located in Taktser, Amdo, in northeastern Tibet. At the age of two he, who was named Lhamo Dhondup at that time, was recognized as the reincarnation of the 13th Dalai Lama, Thubten Gyatso. The Dalai Lamas are believed to be manifestations of Avalokiteshvara or Chenrezig, the Bodhisattva of Compassion and patron saint of Tibet. Bodhisattvas are enlightened beings who have postponed their own nirvana and chosen to take rebirth in order to serve humanity.
His Holiness is committed to the promotion of human values such as compassion, forgiveness, tolerance, contentment and self-discipline. He believes that all human beings share the same fundamental wish; we all want happiness and do not want suffering.
His Holiness also emphasises and promotes religious harmony and understanding among the world's major religious traditions. He believes that despite philosophical differences, all major world religions have the same potential to create good human beings. It is therefore important for all religious traditions to respect one another and recognize the value of each other's respective traditions.