Venerable Tenzin Chosang is currently based in Hamilton and teaches regularly at Trashi Gomang in Auckland. In the past, he has held retreats with TGPL in Wellington and we have plans to get him down again very soon, with whisperings of a weekend Mindfullness Retreat.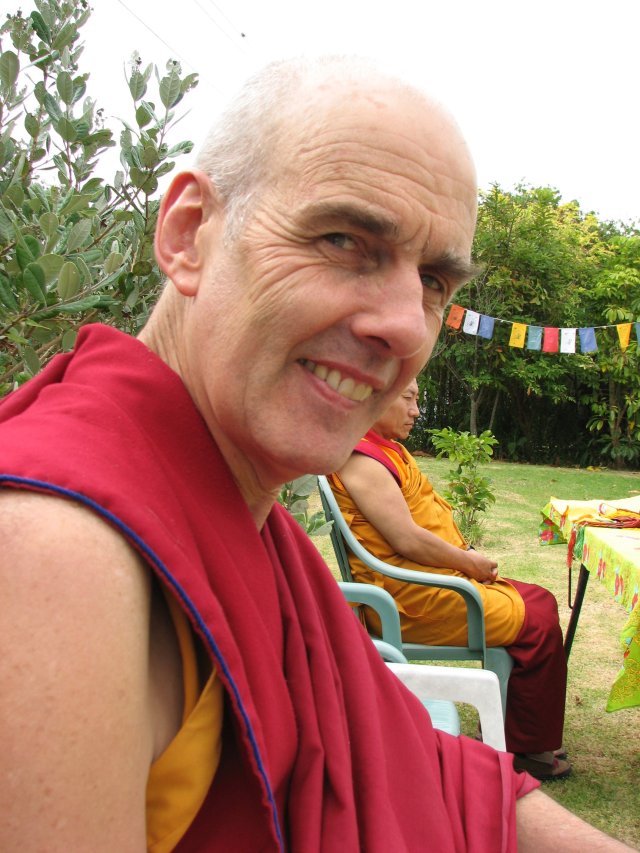 Ven Tenzin began practising Buddhism in the 1990's and in 1996 when HH Dalai Lama consecrated the newly bought property of Trashi Gomang, he also cut a lock of Ven Tenzin's hair as a sign of Tenzin's
wish to enter the monastic life. In the years that followed, he took novice monk and then full ordination with His Holiness in Dharamsala and spent some time at Gomang Drepung Monastery in south India.
Following Khensur Thapkhey Rinpoche's passing in 1999, ven Tenzin returned to Trashi Gomang to
help stabilise and develop the Centre. He has provided a continual and multifaceted support since,
both as a monastic as well as taking on many practical roles. He was a founding trustee and has just completed a 5 year period as Director. He runs a weekly meditation class at the centre on Thursday nights at 8 pm, as well as in a broad spectrum of the community – helping various other Buddhist centers, giving instruction and talks as well as assisting with English documents, running classes at St Matthews in the City, the Sri Lankan temple in Hamilton, Auckland District Health Board's mental
health facility Seagar House, private houses and a Dharma Radio programme through the Chinese Buddhist Youth Association.
You can contact him through the Centre or via email [email protected]